ANNALISA DAMERI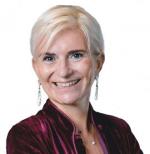 Associate Professor

Scientific Advisor for the Restoration of Castello del Valentino
Vice Coordinator (Collegio di Dottorato BENI ARCHITETTONICI E PAESAGGISTICI)

+39 0110906431 / 6431 (DAD)
Annalisa Dameri PhD is Associate Professor in History of Architecture in the Department of Architecture and Design, Politecnico di Torino. In 2018 she became vice-coordinator of the PhD course in Architectural and Landscape Heritage and she is the Architecture Director for restoration work at Castello del Valentino, a residence of the Royal House of Savoy (Unesco World Heritage Site).
From 2012 to 2018 she worked as Director of the Master of Science in Architecture Heritage Preservation and Enhancement.
Annalisa's main research interests are the history of architecture and the history of cities in the modern and contemporary age. Her methodology is based on archival and philological research and their connections to literature and historiography. Research is an integral part of her teaching at home and abroad, and she regularly takes part in international congresses and collaborates in research groups. She is author of some 200 scientific papers, monographs and academic studies.
Scientific branch
ICAR/18 - STORIA DELL'ARCHITETTURA
(Area 0008 - Ingegneria civile e Architettura)
Scientific responsibilities and other assignments

Research networks

Non-commercial collaboration agreements

Le Parti si impegnano a investire nell'identificazione, promozione e sviluppo di iniziative e programmi di ricerca congiunti, finalizzati a condividere esperienze e informazioni sui temi di interesse tecnico-scientifico connessi alla storia, alla gestione e alla tutela del Paesaggio e del Patrimonio, con particolare riferimento a conoscenza, analisi, salvaguardia e promozione del patrimonio culturale, per il raggiungimento di obiettivi comuni., (2020-2023) - Responsabile Scientifico

Non-commercial collaboration agreements

Countries

Institutes/Companies

Soprintendenza Archeologica, Belle Arti e Paesaggio per la Città Mteropolitana di Torino

Departments